There is a "Tell Us Your Love Story" contest going on over at Smallworld and since my better half has gone off to the gym for a few hours I thought I would type our story...it's been a while since I have told it....so here goes....
I had just turned 16 (1996). It was the weekend before school started (junior year). So it was Friday night and for me and my circle of friends that meant the mall. Almost every Friday night we spent the evening at the mall and then went to the dollar movie theater for the late movies. Single or coupled....we girls enjoyed the chase and flirting, so that was what we did. That summer we had seen this boy everywhere. His name was Tony, we knew of him, he went to my school, a grade under me...so this night as me and my friends were walking across the parking lot to our car, he and his friends were going to theirs and he called out "so we'll see you at the movies later" we yelled back and giggled on our way. About an hour later, now at the theater, we look behind us and see 'the guys' walking toward us. There were 4 of us and about 5 of them. We start talking...I noticed Paul- tall, long blonde hair, showing off. We decide to watch the movie together and the row was one short and he ended up sitting right in front of me. We were obviously flirting, I kept kicking him in the head (nice, wasn't I?) and he kept grabbing my feet. One of my friends looked at me and warned me to 'remember your boyfriend' (did I mention I had a boyfriend at the time?) I got all teary and told her I thought he was going to break up with me since he had been distant all summer. She told me to go for it with Paul...to which I responded with, and I quote: " I could NEVER break up with him, even if I wanted to". So the movie ended and we said our goodbyes and went our seperate ways. We girls were on air on all night....we- the goody-goody honor roll girls had hung out with the "bad boys" which is always exciting. Saturday we end up at the mall again, and so did they. Again Paul and I were drawn to each other- he told me later he knew he was going to "win" me away from my boyfriend from the very beginning. So that is how it started.....that was the end of August. Our groups of friends hung out often over the next few weeks, and it was at Booms Day (large Labor Day fireworks show around here) that I realized I just might have to do something about my current boyfriend. I was falling for Paul, and as much as I cared for this other guy I had to see where this other relationship might lead if we were more than friends. All that week I was in knots. I had to decide....the thought of breaking this guys heart was breaking mine and I didn't want to do it. But the following Sunday we all went to the Tn Valley Fair and Paul and I ended up sitting on a bench together and he asked me what was wrong. I was vague, but I told him I had to make a decision, and that I think I had decided. I didn't tell him what about, but I think he knew anyway. So Tuesday I did it....I wrote the note (mature, huh??) Told my boyfriend I had to see where this could lead and even though I wasn't sure now if it was the right decision I had to be true to my heart. It was a terrible break up. He cried, I cried and I ended up in my room listening to Mariah Carey's Without You over and over again. And that is when the phone rang. It was Paul. It was a sign. He had never called me before. He didn't know I had broken off my relationship. We talked for hours. The next day...Sept 11 1996 he asked me to go out with him (aka be his girlfriend).
We were inseperable, other than school (we went to different schools). He had a horrid step-father and a not-very-strong mother who didn't do much for him. I taught him to drive. We walked across town in the snow when our parents refuse to drive- or let me drive- to see each other. Somewhere in this house I still have the goofy, hand-made 10 reason's why I love you Valentine's Card I made him. I have the picture's from his school's homecoming dance and my junior prom. I have the poem I wrote him to tell him that I loved him.
In August of 1997 I had my yearly doubt-fest and I told him I wanted space. My mom was moving to OK, I had to move in with my dad, I had met this boy in Gatlinburg with my friends and I needed to see if I was in the right place. He agreed to let me go. He was miserable, but he never left me. He stayed by me and that's when I knew I was in the right place to begin with, we were back together again in a month or so and have been ever since.
When I was a freshman in college (Fall of 1998) and he was still a senoir in highschool we would frequently wander around in jewelry shops (He went to Jared!) and looked at rings and such. So by the following summer we had chosen the ring and decided to get married. He didn't really propose, I mean he asked me to marry him, but we were in the parking lot of the jewelry store where we had gone to pick up the ring we had ordered, so it wasn't a suprise, but it was goofy and sweet. BUT...The time between our engagement and our wedding was hard. He was now a college freshman with a full load and I was a sophmore- going on a junior since I took a full freshman fall, spring and summer course load. That's when the panic attacks I experienced in highschool resurfaced. My depression resurfaced and I started cutting. Paul was strong. Not many 18 yr old boys would put up with all the crap that I put him through and I loved him even more for holding me and himself together during that time I dropped out of college in December after being hospitalized for cutting and our life evened out after my stress was gone, and we began to plan our wedding.
It was a small wedding. We paid for the majority of it ourselves. It was nice, outside at Norris Dam State Park. And per the rules of the game I am to post a not-so-great wedding picture....which means I need to go find my album....We didn't have a professional photographer, so we don't have great pictures to start with....although I am not a fan of many if I am in them, but that's just me. So of the pictures I have access to here on my computer....this is my worst....I have no idea why we can't keep it together, and I have about 4 other shots of the 3 of us, gradually calming down enough to look semi normal.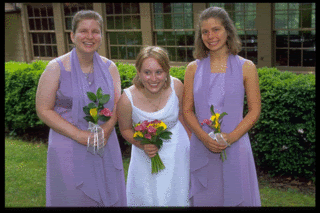 and I am going to post this one just because I like it....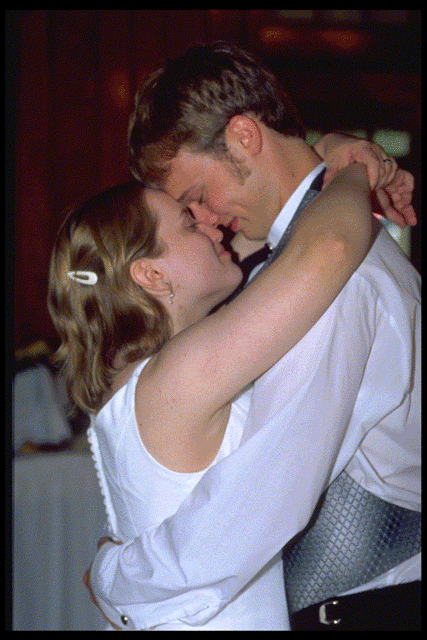 and if none of the pictures above are satisfactory, here is our Halloween picture- 1997, we were 17...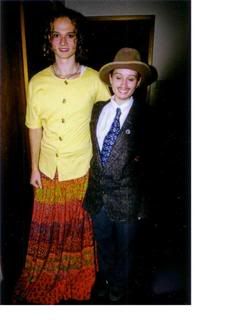 So that is our story....and all this remembering and looking at pictures has gotten me very sentimental...but that will have to wait since it is late and the baby is sure to be up soon...