Yesterday we went for a mini-hike in the Maryville College Woods. It's been awhile since I have been there, but the boys enjoyed it a lot the last time we were there....and they did this time too. It is the perfect, and close, place to take a walk in the woods. Not too strenuous for my 2 yr old to walk, although he did complain a little near the end. My 4 year old walked along dodging poison ivy to pick wild flowers: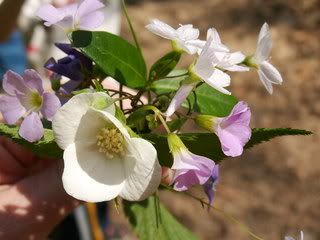 Down at the bottom of one of the trails there is a little log bridge, picnic tables and a creek. We stopped there to eat a snack and the boys were off into the creek bed to look for things. They both collect things: rocks and shells...so they collected a ton of mussel shells....and snail shells. Then they were off looking for Tennessee Pearls which they have never seen (until today when I showed them mine), but they were certain they could find one in the mussels.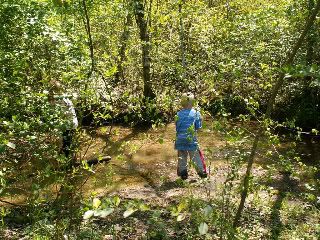 They soon forgot to stay out of the water and my 4 year old was covered in mud on his hands and pants wet up to his knees. They started jumping to little islands. Paul went down with them to carry the 2 yr old across and found a bunch of salamanders and a crayfish. He caught one....the baby was mesmerized by it.
The walk back was filled with questions and observations. Pointing out different plants and trees, watching for what made the rustling sounds under the leaves, and listening to woodpeckers and other birds.