Today I woke up and realized we were just about out of a whole lot of stuff. I had to scrounge around for lunch- the boys who will eat thawed fruit did, one ate a banana past the point where I would eat it and another scraped the applesauce jar clean. Being out of fruit in our house is BIG. So I resigned myself to going to Walmart after the littlest's nap. It was a wonderful thing to walk outside during his nap; the boys collected peas, carrots, our first zuchinni, lettuce and strawberries.....that, with some pasta, was dinner....and I didn't have to drag them out on too late Friday afternoon.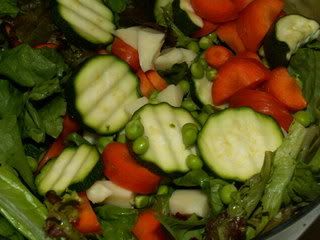 Rylan FINALLY lost his loose tooth. The thing has been hanging in his mouth, with the new tooth already in behind it for a week or more. He hates losing teeth. He has 3 more sort of loose...including the 2 front top. The other bottom one's new tooth is already in half way....this child is blessed with my mouth and the future need for braces.


Cohen- 2 yr old- finally learned how to use a mouse. He loves to play on the computer like his big brothers but didn't often get the chance since I had to sit with him and move his hand. Then one day...he could do it....so he is very much enjoying his allotted 30 min perday on the computer.


Our flowers in the front are blooming nicely. I started these from seed last year. They didn't bloom. But now I can't for the life of me remember what they are. I love the flowers with tall spikes- lupine, foxgloves, delphinium....so it is of that species....just need to find out which one! And the mini-hollyhocks must have seeded EVERYWHERE last fall because those are all over the place, including in the middle of the yard.




The chickens are 16 weeks today. And in the past week or so a few have turned...well....into hens!! They are looking so much more mature. Of course there are still some with no red: waddles or combs


We had a fairly uneventful week. We are done with bookwork for the year so we are spending most of our time outside in the garden. We've been searching milkweed for monarch eggs or larvae. So far we only found a tiny green caterpillar- which spun up the day we brought it in. I am assuming it is a moth though. But we'll keep looking for more exciting caterpillars to bring in...