Paul was off work today, for the first time in weeks. We headed up to Townsend to spend the day at his grandmother's camper. There is a pond- okay TECHNICALLY it is a lake- to fish, a huge playground, a swimming pool, and it is about 5 minutes from the Great Smoky Mountain National Park. The boys had our day all planned out for us- and suprisingly it all went according to plan.
We left the house at 9:30, arriving up at the camper just after 10. First order of business: FISH. Rylan was excited to use his new fishing pole. One he got for a prize for selling popcorn with cubscouts. So we got out the rods and walked down to the lake....
here's the first thing we caught with our corn/bait:
This kept him occupied for quite some time. And my 3 little fishermen....being very patient:
After about 10 minutes Paul and the younger ones headed to the playground and Rylan and I made our way around the lake, stopping to cast every once in awhile. Finally we made it to the far end and SUCCESS!
Fish #1 and Fish #2:
After the first fish, we called the others over, and when Cohen saw Rylan catch the second fish he was determined to catch one too. Actually he refused to leave the lake to go eat lunch until he caught a fish. Luckily we were in a good spot for these little fish and after about 10 minutes, Cohen caught his first fish ever: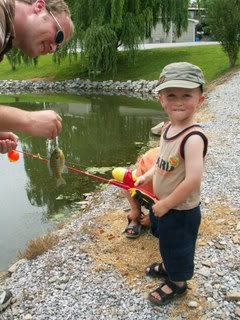 After lunch we headed up to the Smokies.....we stopped a couple of different places....one with less water and more rocks to jump on and one with a bigger shore area for Lakin to wander on and more water for the boys to explore. They caught waterbugs, minnows and attempted a crayfish but it was too quick.
Then we headed back to the camper to swim for a bit, then another round of fishing- Cale wanted to catch one. He never did, but Rylan caught his 3rd for the day. But it was hot and buggy so we went to the playground for awhile before heading home.