I have wanted to make a solar oven for awhile now....and a solar heater....but that one hasn't happened yet. A month or so ago I got a Family Fun magazine in the mail and it had plan for a solar oven. All laid out, using a pizza box. Finally last week while visiting Paul's grandmother we ate pizza out in. So I had the pizza box.
All it took was the box, foil, black paper, tape and some type of plastic....I used old page protectors from a scrapbook. And here is the finised product ready to go: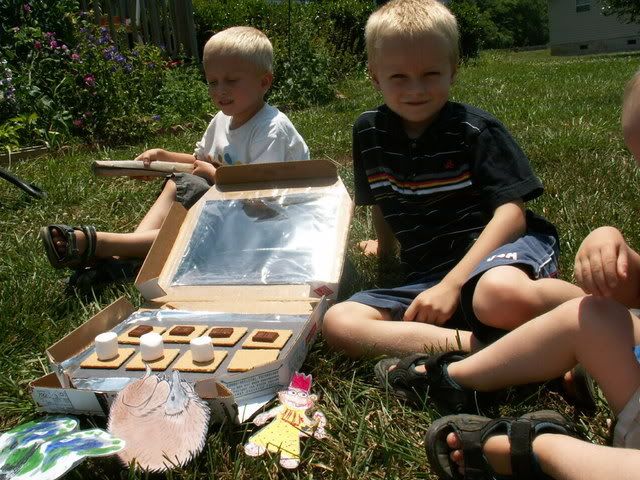 Then you close it up and set it so the sun reflects off the foil into the box.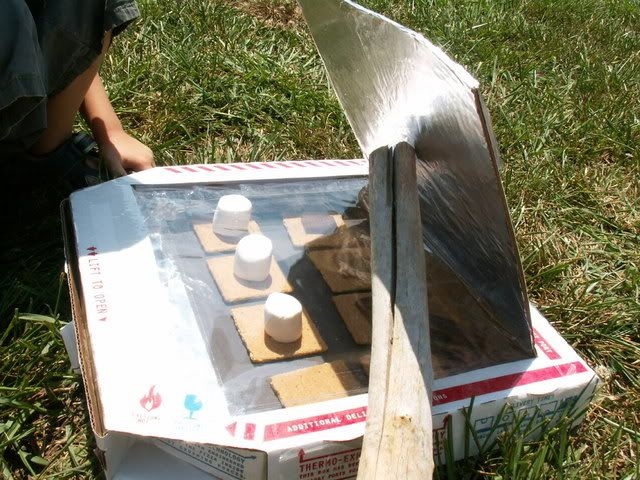 Then you wait. But in the summer you should really plan ahead- I didn't- because as you know...chocolate melts a whole lot quicker than marshmallows..... I should have thought about that more when the chocolate was melting as I unwrapped it....but anyway.....the marshmallow was warm, but not gooey, the chocolate was almost a puddle....but it was still yummy when it was all said and done.
We will try again to capture the sun this winter....when I fully intend to make the solar heater to heat our play/school room.....