I have always been interested in the Montessori Method of teaching. I like the ideas and the tools. We have gotten the catalogs in the mail and order from them for gifts and my boys seem to really enjoy the Montessori inspired activites we do....I stumbled across this blog the other day....and I read a lot, and looked at her prepared enviroment pictures. For a few weeks I have been itching to reoganize our play/school room. They have too much stuff, too much clutter. Some days they go without playing in the playroom at all. So once they went to bed I started clearing. I ended up boxing up 3 tubs of toys, cars, etc. More if you count the art supplies I put up. I don't plan on getting rid of them- yet. Rotate them as needed. See what really gets played with. Drop some off at the camper up in the mountains for recharging playtime. Probably donate some to a friend whose house recently burned down. But the point was to simplify. Put things in order. Keep everything clearly visible. I don't have a before picture, but this is our arts shelf. Other than Rylan and Cale's school book shelves, before were jammed packed with coloring books, paper, boxes of collage fixings, a lot of stuff that frankly was never seen. This is what it looks like now:
I left a smaller amount of different papers, organized. I DRASTICALLY reduced the playdough toys- rolling pins, hammers and knives are all thay is left for a packed box. The top shelf, and 1 from the next level down, are for rotating. Currently there are the rubber band board, rubber stamps/ink, paper punches and cutting activities. On top is the color mixing set my mom got for Cohen last year for his birthday. They spent a good hour this morning punching shapes into paper. But it is so much cleaner and nicer looking and easier for them to pickup afterwards (we do still have our hanging shoe organizer with the paints, crayons, pencils, markers, etc...)
I also added a couple things from around the house: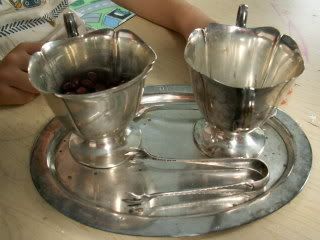 I inherited this very old silver sugar/creamer set from a great great grandmother. I had forgotten it was stuck in the bottom of my china cabinet. So I filled it with beans and set it in front of my almost 3 year old. He loved it. Sat for a long time working with the tongs. They were tough for him to use on such small beans but he did great. I also added a little silver spoon which he used after he got tired of the tongs. All 3 used this today.
And I added this: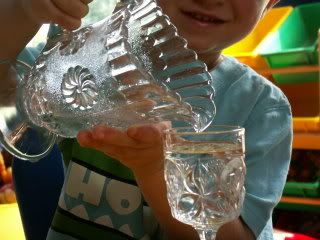 The Montessori catalogs have a lot of practical life items such as pouring. And I actually own a few little pitchers- but they come from the fore mentioned great grandmother and I am not sure I am ready to hand them over to my kids. I even have a small pitcher/bowl set like they used to use to wash hands. Again I am not ready to hand it over. But I do have this. I don't think it is old...seeing that the pitcher has mints on it. I am thinking it was probably from some holiday set. But I filled it with water and set it with a little tiny goblet and let them pour with it.
They also got out their older sets:
So they had a busy day. They used their hands a lot. They swept up their holes from punching and nut shells from cracking. They dried water spills. I am still reading, doing more research- esp on using these ideas for kids older than 6. But I have my head filled with ideas on what things I want to change in our home.