Today I finished up this project to add to our shelves.....
It is for writing a book/stories. Like a lot of boys, my oldest is somewhat of a reluctant writer. It takes too long is his number one complaint. While he is getting better at writing longer sentences he still doesn't write a lot. I want to encourage them to write down their stories and get their imaginations running. So here 's what is in this "kit":
First I made these books. Simple folded in half cardstock, with 3 sheets of paper inside. One is blank for a title page, 2 are lined on the bottom, front and back to form 8 writable pages. My stapler wasn't long enough to staple the binding so I sewed them...and I think they turned out nicer that way...
Then I made some story starter cards, in case they needed them. They are fairly generic...."One day I..." and "This weekend I...". I sewed a little pouch for the cards. Then I made a little information card with basic instructions...pick a topic or starter, write and illustrate your story, think of a title. Then a basic template for a cover and the information it should include. I stuck it all in, well actually it is a "mailbox" they made at Lowes, on the shelf with a jar of fancy pencils, colored pencils and my pens.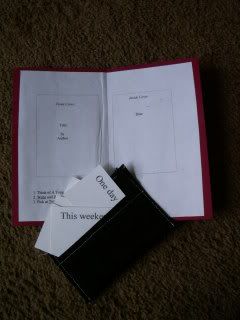 Cale has plans to write a story about a cat tomorrow.