On Monday we headed back up to Townsend to swim and fish- although it was too hot to fish and the algae bloom in the lake made it not too inviting, but we did swim. A goal this summer was to get the boys swimming. Rylan, up until this year, as been very scared of the pool. But now he can walk the length of this pool (4ft at it's deepest) and he is relaxing a bit more. BUT still not enough to swim. Cale on the other hand paddles all over in his water wings and wants to learn. I told them they are both taking lessons in the fall if it doesn't happen in the summer and they have a reward for learning too. So this week we got them some kick boards and they helped a lot- got their bodies up in the water. And when they saw a 3 yr old jump in and swim under water both immediately dunked!! I was so pleased with that since the week before it took 10 min of reasoning to get Rylan to dunk his head.
Now this little boy.....he fell off the step on the 4th of July and went under for a second- not even under he was bobbing with his eyes out.....he didn't even choke. But he got scared. I was sitting right next to him, but looking on my otherside....turned around to his eyes peering out. So last week he cried and cried and refused to get near the pool. He did finally sit on my lap on the top step. This week he sat on the first step in by himself and thanks to a big beach ball and Lakin throwing it- he came out into the water with me- nails digging in....but out in the water.
And this one just floated around....chasing a beach ball....dunking his face in the water in front of him....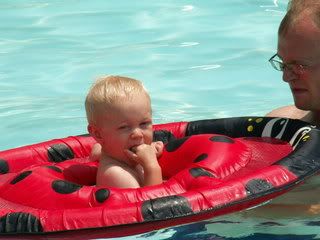 And today when Rylan and Cale were out playing with the chickens....Lakin and Cohen made bubbles....2 buckets of water, 2 whisks, 1 hand beater and some soap. It took awhile for him to work the beater fast enough to get a good foam....but soon the bowls were overflowing. They had a blast. And were covered in bubbles. Cale came over later and threw bubbles all over the walls and glass door. Then they dumped them and paraded around in the foam. Rylan was too good for this activity....it might get him dirty??
We also did a chemical reaction experiment today....forgot my camera...but they experiemented for awhile. I set out baking soda, paking powder and corn starch. And water, lemon juice and vinegar. All unlabled (although the liquids were easy to guess). They we tested each possibility for a reaction. Cornstarch made none. They were suprised when they discovered that water and baking powder produced a reaction. We talked about baking and the bubbles that cause rising. We also talked about carbon dioxide and it's uses and dangers. Then we made dancing popcorn. Back when Cale 2 or 3 he wanted to make dancing popcorn all the time. He vaguely remembered it....but they all had fun watching the kernals dance and dropping more vinegar or baking soda in to make more bubbles.
And finally...since I took away a lot of their toys...including their plastic car garage....they have a renewed interest in the wooden unit blocks. They are all about the monster trucks right now so they have been making tracks, ramps, garages, etc....Today Rylan made a huge high rise hwy for them during quiet time. But yesterday they built this:
(Good thing I took a picture when I did, since hurricane Lakin knocked it down a second later trying to drive up it). They specifically asked me to photograph it so we could show my brother- Uncle Justin- they love to build with these when he visits. So Uncle Justin- if you read this- the above building ramp is for you.