Today was a beautiful day in East TN...70 deg temps, sunny skies....so we took a field trip this afternoon to Fort Loudon. It's only about a 15 min drive from our house, and the last time we went it was mid July in the 100 deg heat...so much more enjoyable this time. So here is a tour of the fort....but first a little background....
Fort Loudoun was constructed in 1756 during the Seven Year's War (aka The French and Indian War) to help secure the Mississippi Valley region from the French. It was the first fort constructed in the "Overhill" country and helped ally the Cherokee Nation to the British cause and block further penetration by the French forces.
Here's the Tellico Blockhouse from across the water. It was a US Army fort in the Cherokee Nation from 1794-1807
The view of the lake and fort from the top entrance.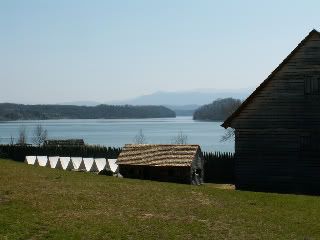 Here are the barracks....double bunks line the walls, fireplace and tables.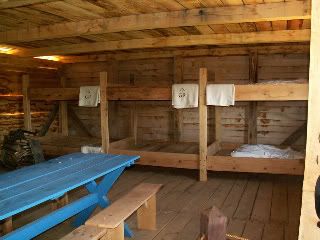 Then there is the ever popular bastion, what boy doesn't like cannons??
Here is another view of the Fort, you can see the storehouse on the right side, to the left of the tents is the blacksmith and the hospital. Then the oven in the corner.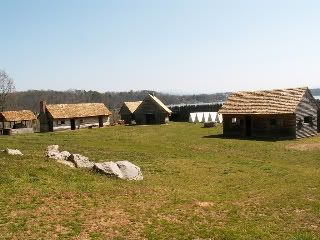 Here is the bake oven.....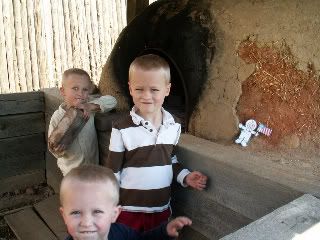 Then they climbed and ran down the hill on the outside wall of the fort, you can see the palisade well in this shot.
Just outside the lower gate (The Tuskegee Gate) the fort is surrounded by a 'dry moat' which includes on the outer edge rows of Honey Locust Trees. These young trees have 4 in spines all over which were used to impede an Indian attack.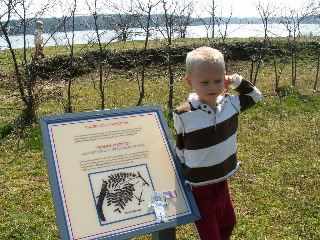 Then we decided to stop by the Tellico Blockhouse on the way home. It is in ruins so not too fancy, but rock walls and an open area are fun for any growing boy....
So now you know all you need to know about Fort Loudoun. And in case anyone was wondering about the vistor in many of the pictures....we have Flat Buzz the astronaut visiting us from IL...he's learning all about TN so he can tell his family back home....